New paint colors for your home
People often say nothing lasts forever. The same can be said about a home's paint job. Repainting your property may be low on your to-do list, but it's a great way to zhuzh up your home without spending a fortune. And if you are planning on opening your home as a rental or listing it in the market soon, a new paint job can do wonders.
This guide will tell you more about the best paint colors for a house on the lake.
PAINT 101
Painting is one of the quickest ways to refresh the look of a room or home. That said, color is not the only factor to consider. Its formulation, especially its base ingredient, can affect the life span, durability, and color quality of wall paint. The walls of your home, not to mention the location of your property, can also impact the longevity of wall paint.
Paint types
Water-based paint is the most common type of wall paint in the market today. It's low on carbon and toxic emissions, light-fast, and can be used on almost all types of walls and finishes. Over time, you don't have to worry about mildew growth. Best of all, applying water-based paint doesn't require intensive pre-treatment.
Although water-based paints tend to be light-fast and stable, they also don't have the richest of colors. And if exposed to moisture, they can delaminate and eventually peel off.
On the other hand, oil-based paint has rich color pay-off and finish. It can be used on almost any surface and is likely to stand the test of time. But unlike water-based paint, oil-based formulations emit fumes that may cause headaches. Cleaning painting tools dipped on oil-based paint also usually require solvents.
Picking the right finish
Also referred to as sheen, finish is the reflective quality of paint. Depending on the finish, your wall's paint color may diffuse light in different directions or in just one direction.
Matte paint, as its name suggests, is the least reflective of all finishes. It dries down flat and, instead of reflecting light, gives off a velvety look. This is the sheen to consider if you want to cover up any surface imperfection. Matte finishes can also make colors look even richer.
Eggshell finish is a step up from matte paint in terms of sheen. It can look flat like matte, but instead of a velvety look, eggshell paint looks soft and smooth. This type of finish is a great option for high-traffic areas, such as entries and hallways, as eggshell paint is easy to clean as well as stain- and scuff-resistant. But if you want a glossier look, use paint with a satin finish. It's more durable than eggshell and works especially well on woodwork.
Semi-gloss and gloss paint offer the highest levels of reflection, respectively. These types of paint are also the most durable and impactful. But since they reflect the most light, semi-gloss and gloss paint also highlight wall and ceiling imperfections. If you are using paint with this finish, extensive pre-treatment on the target surface is highly recommended.
Paint color and how it affects your home
Your home is your sanctuary. It's logical that you want the best paint colors for a house you spend most of your time in, from eating and sleeping to relaxing. Countless studies and papers have proven that color directly impacts mood and overall health. The study of human behavior based on color is called color psychology and involves color theory. It finds that specific colors and shades elicit a common reaction from most people, making your choice of color a crucial part of the design.
Colors affect our daily lives by evoking emotions that range from feelings of comfort, warmth, energy, and excitement. It affects one's mood through different associations. For example, the human brain associates warm colors—such as red, orange, and yellow—with feelings of power, anger, passion, and comfort. On the other hand, cooler colors—such as blue, green, and purple—create a more calming atmosphere that soothes an uneasy disposition. However, in certain environments, it can bring about feelings of sadness or indifference.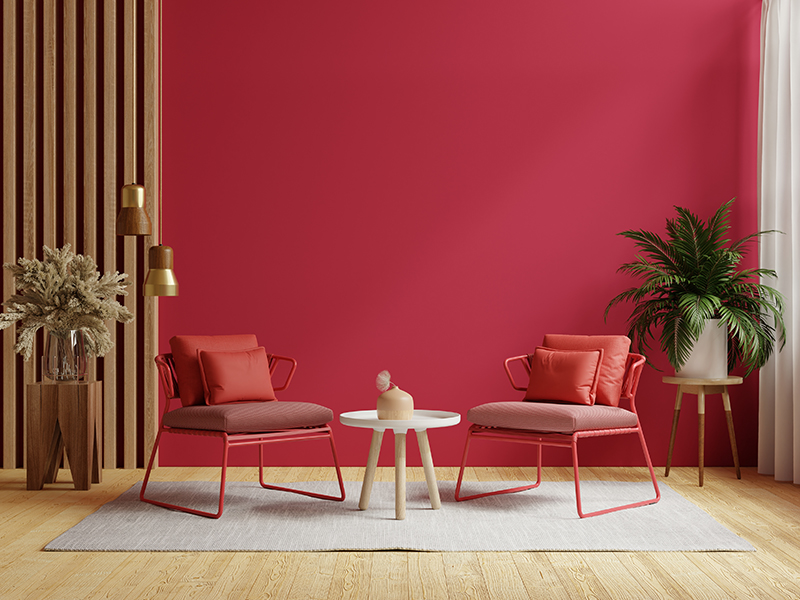 2023 PAINT COLOR TRENDS TO CONSIDER
Pantone's 2023 Color of the Year is Viva Magenta 18-1750, a strong shade from the expressive red family described to be rooted in nature. This pulsating color exudes joy, courage, and optimistic celebration. This powerful color is electrifying and makes a stand-out statement. In terms of design, Viva Magenta is energizing and attention-grabbing and makes a strong statement when used as a primary color.
Viva Magenta can be used as an accent color to add visual interest or highlight specific design elements in any space. If you don't want it to be too overpowering, match it with neutral or complementary. The best thing about this color, however, is its flexibility. Whether you have a maximalist lake home or a traditional, nature-inspired property, Viva Magenta will do just fine.
If Viva Magenta is too vibrant a color for you, consider recommendations from other brands. Benjamin Moore tagged the red-orange Raspberry Blush as an out-of-the-box pop of color that can do wonders for smaller spaces. Meanwhile, Behr opined the minimalist off-white hue, Black Canvas, as the perfect backdrop for any room. Another color option is Spanish Moss, picked by Krylon, which is both earthy and cool.
This rundown of the year's top colors is not to say that your home should make this your color palette. Instead, it gives you something to consider as these hues represent the upcoming design, fashion, and interior trends. The best paint colors for a house should be based on personal preference and taste, the function of the room, and the overall home design and color scheme.
THE BEST PAINT COLORS FOR YOUR SMITH MOUNTAIN LAKE HOUSE
One of the most frequently asked questions about waterfront home design is about coastal paint colors. Think of the highlight of your view, Smith Mountain Lake, if you're looking for inspiration. From the warm scenic colors of the sunrise and sunset to the blue hues of the water, there are countless ways to evoke a coastal feeling throughout your home or rental.
For curb appeal
The exterior color of your home is like a handshake—it can make or break somebody's first impression of the property. Each Smith Mountain Lake house has a story of its own; pick a paint color that helps you share this.
Light blue: Light blue exteriors are a no-brainer for a lake home. It also helps your property exude a relaxing, laid-back atmosphere. This color is more on the traditional side but provides a nice and easy change if your home currently has a neutral-colored exterior.
There are also many shades to choose from— haint blue is a lovely blue-green hue with deep roots to Southern culture and folklore. If you want a bit more color without standing out too much, light sky blue or baby blue are great options to consider.
Burgundy: A rich, burgundy-red home stands out from the greenery of Smith Mountain Lake without causing too much commotion. And depending on your home's exterior material and the exact burgundy shade you choose, your lake home might achieve that rustic look.
Off-white: Go clean and classic with an off-white paint color for your home's exterior. There is a good reason why it's such a popular choice— it's the most timeless and elegant color. If your home already has dark-colored roofing, it will provide much-needed depth and contrast. Do you love gardening and landscaping? Off-white exteriors serve as the perfect backdrop to seasonal blooms.
Light green: Green exteriors are best for neighborhoods with many hiking trails, but whether that is the case or otherwise, this color helps your home blend with its surroundings. You can go for a light green tint for something fresh or opt for a more muted and earthy shade such as moss or sage green to achieve an organic look.
Black and taupe: This is a twist on the no-fuss black and white color palette. If you're the type that thinks a crisp white matched with a solid black element looks classy, try swapping out the white for taupe to warm the look and give it a cozier vibe.
The best advice we can offer you when choosing the exterior color for your lake house is to liven it up a little. Sure, you can go charcoal and black, but this is a vacation home, so it's best to give it some warmth and avoid looking so heavy and serious.
Interior colors for your lake home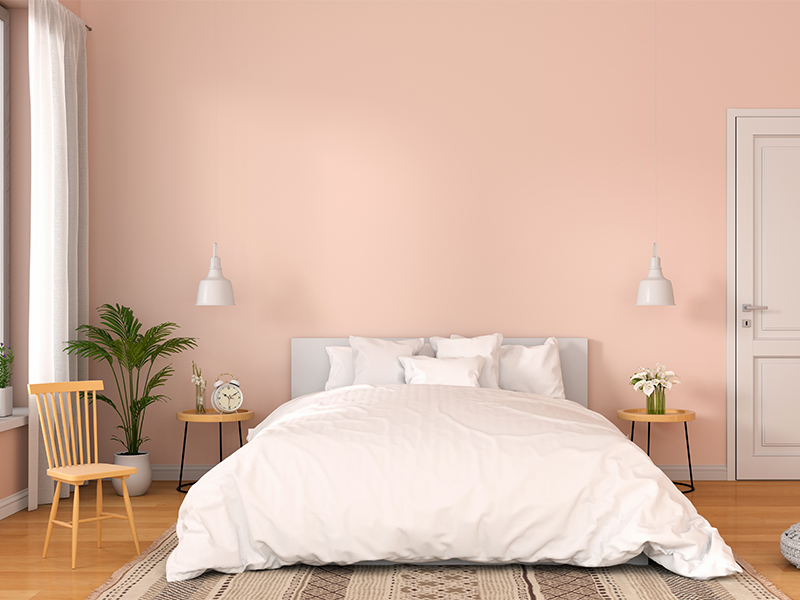 When repainting your home, it's important to remember that you aren't limited to just one color. Create a color palette that fits your theme for that space or complements the overarching look of your home.
For the living room

A neutral color for the living room is best. These tend to be larger, open spaces where people spend lots of time—using a classic base color that can adjust to changes in design trends and shifts is ideal. You can add more energy and personality to the room by adding pops of color through thoughtful selection of décor or by creating an accent wall.

For the dining area

Your dining room, like the living room, are shared spaces used daily. When choosing the best paint color for this space, it's best to anchor your decision on the amount of natural light that enters the room. For rooms with plenty of natural light, choose a fun color that helps keep the energy up. But, if you don't have a lot of natural light, go for a color that brightens up the space, like white or an off-white option.

For the kitchen

The paint colors of the kitchen and the dining room should be complementary, but it really depends on your theme. If your kitchen is inspired by the lake, rich navy blue walls work well with any metal, but especially gold hardware. It's a great way to liven up a tired kitchen and give it a chicer feel. Another option is to go for warmer colors like orange and red— these colors are known to stimulate the appetite.

If you're tired of the same white kitchen, consider earth tones for a grounded and vintage feel. Green kitchens are especially trendy lately. When done right, this paint color makes for a chic, sophisticated, but warm space.

For the bedrooms

Relaxing colors work best in bedrooms. And while that category ultimately depends on the user of the space, going for subdued shades is highly recommended. Bedrooms are traditionally done in shades of white, gray, blue, and beige, but feel free to explore other colors. Warm terracotta and light pinks add calming splashes of color. Most of all, they breathe new life in a space that can feel one-dimensional. Butter yellow and sage green are also beautiful options that bring the outside in.

If you don't know where to start, consider the color of the bedroom's existing furniture. Darker wood and furniture classically pair well with deeper colors, while it's the other way around for light-colored furnishings.

For bathrooms and powder rooms

Like the kitchen, bathrooms and powder rooms can easily feel outdated. You may want to stay within a classic color scheme for these spaces. If you're only repainting the bathroom, your color options should be based on the existing tiles and installed hardware. But if you're up for a complete overhaul, have a little bit of fun! Since they are smaller spaces, bathrooms and powder rooms present you with an opportunity to explore exciting colors and tile combinations.
When repainting your home, ensure color continuity to create an overarching look that is cohesive and harmonious. This will enhance the enjoyment of anyone who steps into your lake home, from your family and friends to potential tenants or buyers should you decide to sell your home. A well-chosen color palette also saves you from additional work and expenses if ever you decide to let go of your property down the line.
LEARN MORE ABOUT SMITH MOUNTAIN LAKE REAL ESTATE
With nearly 30 years of experience buying and selling homes in Smith Mountain Lake, I can share local information and real estate expertise you won't find anywhere else. My name is Jane Sullivan Horne, and I'm your guide to Smith Mountain Lake's beautiful lake homes.
Whether you're buying a secondary residence, vacation home, or investment property to add to your real estate portfolio, you can count on me. Learn more about your real estate opportunities in the area by calling 540.493.1690 or 800.858.4653. You can also get in touch with me here.