Water Skiing on Smith Mountain Lake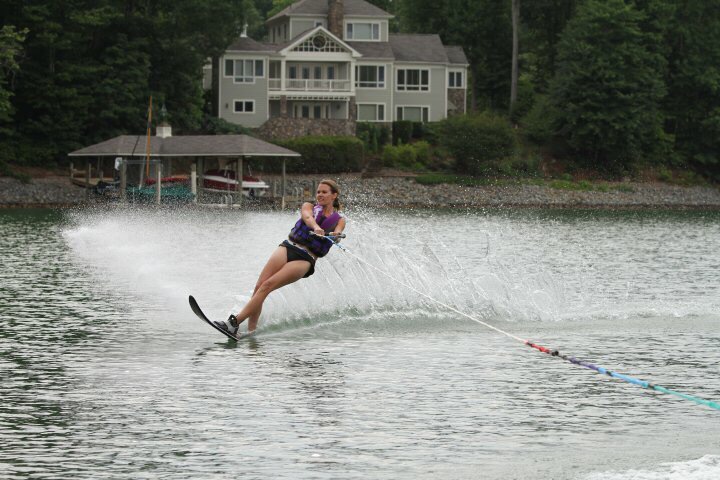 Smith Mountain Lake is known to many as the "Jewel of Blue Ridge Mountains," and is just a short distance from Roanoke and Lynchburg. SML offers many activities that will surely excite any member of your family. The perfect climate and gorgeous views of 22,000 acres of crystal blue lake makes Smith Mountain Lake a highly sought after area, especially during the summer months. Visitors and residents take advantage of the mild climate and perfect conditions for a wide range of outdoor activities. When you live in this amazing place, you can escape the worries of life and truly embrace nature.
Smith Mountain Lake Recreation: Water Sports
Smith Mountain Lake offers many outdoor activities including boating, nature trails, parasailing and also water skiing, to name a few. If water skiing is something you enjoy, there are many opportunities here for hitting the water and enjoying the speed and the breeze. There is even a public slalom course available to all skiers. Maintained by the Smith Mountain Lake Water Ski Club, the public slalom course is accessible with a small fee or membership, and is ideal for skiers of all experience levels, from beginners to veterans.
Operating from March through November, the Smith Mountain Lake Club hosts local tournaments, ski exhibitions, and opportunities to meet and learn from other water skiers. The club was created to help promote awareness for water skiing and offers classes on safety. If you have been considering this new hobby or wanting to brush up on your skills, there's no need to wait…Smith Mountain Lake awaits you!
Not ready to learn to water ski?  Enjoy jet skiing and tubing or try paddle boarding and kayaking.  Whether you're young or young at heart, there's something for everyone at SML.  You can also rent boats and jet skis from several different marinas.  Houseboats are also available for rent gather your friends and family and spend the weekend loving the lake as much as its residents do.
Smith Mountain Lake has so much to offer your family and I'm sure you will find fun for the whole bunch without having to venture far. I hope you will give me a call with any questions you may have on this beautiful area and consider joining one of our great communities! As a resident of Smith Mountain Lake for over 20 years, I've had the pleasure of enjoying what this incredible place has to give. The sunsets are unforgettable, the views are spectacular, and the neighbors are like family! I hope to hear from you soon!