Smith Mountain Lake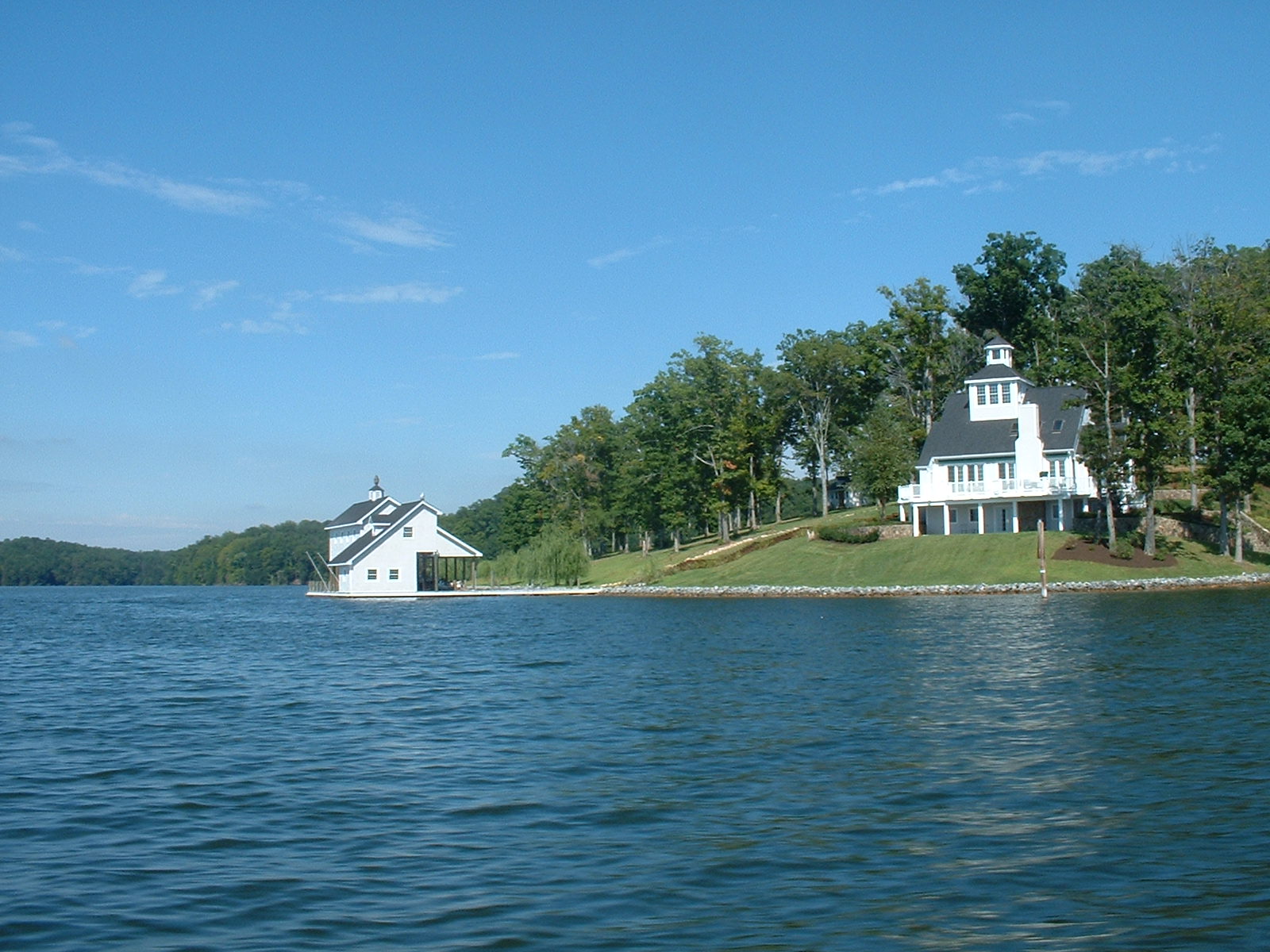 Boasting of clear waters, scenic views, and a laid-back atmosphere, Smith Mountain Lake is an idyllic community and one of the top places to live in Virginia.
Whether you're looking for Smith Mountain Lake waterfront homes for sale or a luxurious abode in a golf community, you'll find properties and neighborhoods that suit every lifestyle.
When you buy Smith Mountain Lake real estate, you'll have access to a variety of fun and exciting outdoor all-year-round activities such as golfing, boating, fishing, and hiking.
Smith Mountain Lake also offers unique attractions, great parks, and premier shopping destinations. The community's restaurants, bars, wineries, and breweries are absolutely not to be missed!
An Introduction to Smith Mountain Lake: The "Jewel of Blue Ridge Mountains"
Overview
Accessibility
Brief history
Named for Virginia's most visited freshwater reservoir, this picture perfect community epitomizes low-maintenance beauty at its best, with clear waters and a rocky shoreline dotted with pondweed, coontail, and waterwillow.
It comes as no surprise that the place attracts its fair share of out-of-towners each year. In 2017, Bedford and Franklin counties reported a 4% and 1% increase in tourism revenue, respectively.
And while there are no specific figures for SML, it's worth noting that the lake's roughly 500-mile shoreline encompasses three counties, including the two mentioned above.
Moreover, local events like the Antique & Classic Boat Show and Smith Mountain Lake Wine Festival are a huge draw for tourists.
But SML is more than just a place to visit – it's a place to set down roots. There are residents whose families have been here for generations and can't imagine living anywhere else.
Location and accessibility
Located in Virginia's Roanoke Region, just southwest of Roanoke City, SML is bounded by Smith Mountain Lake Park and Bedford County to the north, Franklin County and Moneta to the southwest, and Pittsylvania County to the southeast.
There are several towns and cities within a 40-mile radius of SML:
Roanoke
Lynchburg
Moneta
Huddleston
Penhook
Hardy
Union Hall
Wirtz
It's not uncommon for residents to commute to these towns and cities for work, school, retail, and entertainment.
Not that you'll need to go far from home for leisure and opportunities – SML is a self-contained, self-sufficient community with first-rate amenities and services.
Smith Mountain Lake Airport is located about four miles southeast of Moneta. Despite being privately owned, the airport is open to the public and provides hangar rental and other services.
Roanoke–Blacksburg Regional Airport is located roughly three miles northwest of Roanoke. The airport offers flights to eight major cities with over 40 scheduled flights that depart and arrive on a daily basis. Major airlines and regional affiliates that serve the airport include:
American
United Airlines
Delta
Allegiant Air
Aside from passenger airlines, ROA can also accommodate charter operators, air taxis, airfreight carriers, and general aviation.
Other airports that provide access to SML include:
Lynchburg Regional Airport
New London Airport
Major highways and roads like Blue Ridge Parkway and Interstate 81 are located west of SML.
From Roanoke and I-81, there are four access roads leading to the community:
US 220 South – Rocky Mount and Route 40W – Route 122 North
US 460 East – Bedford and Route 122 South
Route 24 – Vinton – Route 122 South
Route 116 – Route 122 North
From the Blue Ridge Parkway, you can take the following routes to SML:
Route 130 (Natural Bridge) – Big Island and Route 122 South
Route 43 (Peaks of Otter) – Bedford and Route 122 South
Route 24 (Vinton)
Route 460 (Montvale)
US Route 220 South – Rocky Mount and Route 40W – Route 122 North
Travelers coming from North Carolina can take major highway routes to the south US 220 North and US 29 North.
Smith Mountain Lake history
The community was built around a reservoir, which generates power for the Appalachian Power Company. Construction on the Smith Mountain and Leesville dams on the Roanoke River started in 1960 and took about six years to complete.
From then on, SML quickly became a top attraction. Encompassing 40 miles, the reservoir offers countless opportunities for fishing, boating, and swimming. The forested areas surrounding it are also ideal for hiking and camping.
During the dam's construction, a group of Smithsonian Institute archaeologists performed an excavation at the site and discovered remnants of Algonquin Native Americans who fished and hunted in the bountiful area.
Reformist and presidential adviser Booker T. Washington was born and raised in a historic plantation to the west of SML, where a memorial celebrating his life and impact on the Civil Rights movement stands today.
SML has also served as a backdrop to several movies, including 1991's "What About Bob?", which starred Bill Murray and Richard Dreyfuss, as well as 2012's "Lake Effects".
Today, guests can learn more about the community's rich history at Smith Mountain Lake Visitors Center. The center features interactive exhibits on SML, including a scale model of the reservoir.
Waterfront living in Smith Mountain Lake: Real estate and lifestyle
Communities and real estate options
SML has grown as a community over the last few decades. Today, it is considered one of the most desirable places to live in Virginia because of the lifestyle and sense of identity of the area.
This growth can be seen in the housing market – what was once rural farmland has now turned into prime waterfront real estate, all thanks to the construction of the reservoir.
During its 1959 board meetings, the Appalachian Power Company envisioned an idyllic community. They predicted, quite accurately, that housing and recreational facilities would mushroom around the lake as soon as it was opened to the public.
Despite its tremendous growth and far-reaching reputation, however, SML has managed to retain its retiring and bucolic character. That's why it's been Virginia's best-kept secret – until now.
Buyers will find a gorgeous patchwork of waterfront and off-water neighborhoods to suit every lifestyle:
There's truly no place like home in SML. Seize the rare opportunity to own a home in this exclusive area. Get in touch with me, Jane Sullivan Horne, here. As a luxury real estate expert with over 28 years of experience, I can help you navigate SML and its neighborhoods.
Smith Mountain Lake: Things to do
Recreational activities and attractions
Aside from waterfront estates, SML is known for one other thing – recreation. The community has become synonymous with leisure in Virginia because of its scenic beauty and natural bounty.
As an SML resident, you can enjoy these activities year-round:
Boating
Possibly the best way to explore SML, boating lets you explore over 20,600 acres of the lake's surface. A day out on the water lets you admire views of the gorgeous waterfront cottages on the shores of the lake as well as the Blue Ridge Mountains in the distance. So bring your boat and rent a slip at any of the community docks around SML.
If you've yet to invest in one, you can always get a private charter for a tour of the lake and the surrounding areas:
You'll also find several rentals offering pontoons, kayaks, standing paddle boards, tubes, and more:
Better yet, why not take sailing lessons? Be the captain of your own watercraft when you sign up for lessons at any of the following schools:
Enthusiasts can also join the Smith Mountain Lake Boating Association (SMLBA) to get the latest boating updates in SML in addition to gas and boat purchase discounts in the area. SMLBA also organizes fundraisers that benefit local charities.
Fishing
SML offers a plentiful catch to anyone who dives deep into its waters. The lake is widely regarded as Virginia's premier fishery, with private and public boat ramps scattered across its shores. Franklin County also features an ADA-accessible fishing pier.
So cast your bait and wait for the fish to bite – the lake will reward you for your efforts – SML consistently ranks the top producers of bass citations in the state. It also hosts the ESPN Bassmaster Elite Series tournament.
In fact, Bassmaster Magazine ranked SML 16th among the best bass lakes in the Northeast Region in 2019.
Black bass is the most coveted trophy fish in SML.
SML is ideal for largemouth bass fishing, with extensive VDGIF electrofishing surveys by fishery biologists producing many largemouth bass weighing 2 to 4 pounds each spring.
Largemouth bass also make up the bulk of fish in the lake, far outnumbering smallmouth bass.
High densities of largemouth bass can be found in the following areas of the lake:
Upstream of Hales Ford Bridge, away from the dam
Roanoke River arm
Buoy B26 in the lake's Blackwater River arm
Smallmouth bass can be found in higher quantities in the lake's lower portion.
A guided fishing charter will help you make the most of your time on the water. Check Kenny's Striper Guide Service for half and full-day fishing trips in SML.
You can also check the VDGIF site for more information on prime fishing spots in SML.
Golf
Golf enthusiasts are spoilt for choice in SML. The community is home to some of Virginia's most celebrated golfing destinations, including:
You'll also find miniature golf courses in and around SML:
Harbortown Miniature Golf – Enjoy a friendly match with family members at this 18-hole miniature golf course. Located in Bridgewater Plaza in Moneta, the mini golf course commands stunning views of SML. They also host fundraisers and seasonal family-friendly events like Trick or Treat for Halloween.
Hot Shots Family Entertainment Center – Play a round of golf at the par 40 miniature golf course with the kids then treat them to some wings, fries, burgers, and other tasty treats at Hot Shots.

For the adults, the center offers football and baseball viewing packages with large screen TVs and a full-service bar. You can also join their weekly Cornhole tournaments.
Hiking
No trip to SML is complete without a day of hiking. So bring some good shoes, a water bottle, and a camera – and get ready for the hike of your life.
Appalachian Trail – Also known as A.T. to hiking enthusiasts, this trail stretches for over 2,200 miles into George Washington & Jefferson National Forest, parallel to Interstate 81, and with access points along Roanoke Valley in Blue Ridge.

As one of Virginia's most iconic hiking trails, A.T. welcomes over 2 to 3 million hikers each year. Highlights include McAfee Knob, which is perhaps the most Instagrammed feature of the trail.

Peaks of Otter – This refers to the three mountain peaks of the Blue Ridge Parkway, namely Flat Top, Sharp Top, and Harkening Hill. Some of the most popular hiking trails in Virginia can be found in the area, including Johnson Farm Trail and Abbott Lake Trail.

Hike to the summit, get a glimpse of rural life at the restored Johnson Farm, and admire the beauty of Abbott Lake.
Parks
Ready to go camping? Pack your bags and head over to these parks, where you'll find recreational facilities, picnic shelters, and camp sites.
Smith Mountain Lake State Park – Camp out at the state park, where you can enjoy a wide range of water-based activities like swimming, fishing, and boating. You can also explore miles of nature trails, get cozy inside one of the cabins, or roll out a blanket for a nice picnic.
Smith Mountain Lake Community Park – This community park spans 37 acres and was opened to the public in 2007. Here you'll find an ADA-friendly fishing pier, a two-mile trail system, a playground, picnic shelters with BBQ grills, and a seasonal beach and swimming area with lifeguards.
Historic Places
Learn about SML's rich heritage when you visit these places of historic interest:
Wineries and breweries
Missed the annual Smith Mountain Lake Wine Festival? Reach out to these local distilleries to enjoy SML wine and craft beer:
Shopping and dining
SML is a shopping destination in its own right, with boutiques, art galleries, souvenir shops, jewelers, and furniture stores selling both popular brands and one-of-a-kind items.
Here you'll find vast commercial developments like Westlake Towne Center with retail and offices as well as vibrant downtown areas like Downtown Moneta, which is lined with stores and cafés.
You'll also find an excellent selection of sports warehouses, marinas, and golf shops that sell all kinds of sports gear, fishing accessories, and boating and waterskiing equipment.
The restaurant scene is no less impressive, with local restaurants, bars, and cafés serving Italian, Mexican, and French cuisine.
For grab-and-go meals, there's a wide assortment of fastfood chains and casual dining restaurants offering takeout in SML.
And then there are the farmers' markets, where you can buy fresh and seasonal produce along with artisanal goods and homemade meals.
Click here for a list of restaurants in and around SML.
Conclusion
SML is no longer a secret – Virginia's top summer destination is a wonderful place to live year-round. We're proud of the community we've built here. The Jewel of the Blue Ridge Mountains welcomes you with open arms.
For more information on SML real estate, you can reach me, Jane Sullivan Horne, here. I have over 28 years of professional experience in SML real estate. But more than that, I'm passionate about helping buyers find the perfect home in SML. I can't wait to hear from you.
Call me at 540.493.1690 or 800.858.4653. You can also reach me at Jane(at)JaneAtTheLake(dotted)com.