The benefits of owning property in Smith Mountain Lake, VA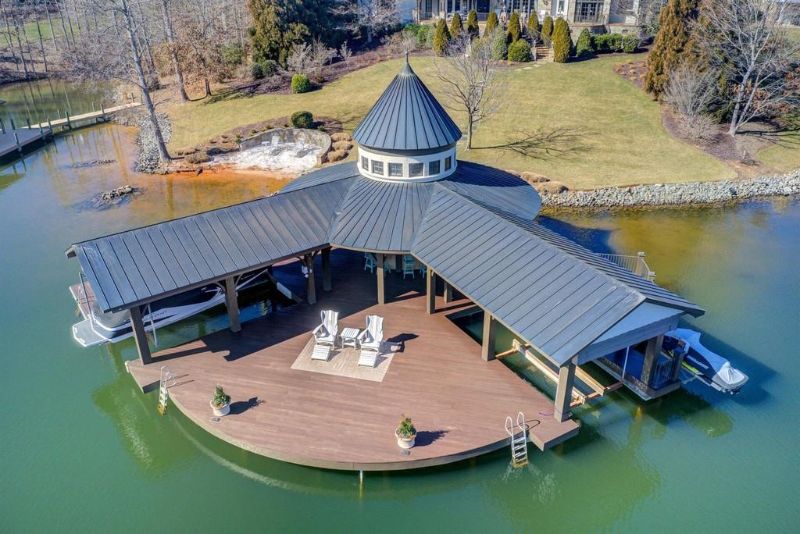 This magnificent, 5-bedroom lake estate located in The Water's Edge has been recognized as one of "The Fabulous 5 Homes of SML" and exemplifies ideal lake living in Smith Mountain Lake. View here for details.
Smith Mountain Lake is one of the premier communities in Virginia. With luxury townhomes developed around the lakefront giving easy access to water activities, it's certainly the perfect vacation destination.
Known as SML to the local community, there are many benefits to owning property here. It's a great place to invest in real estate, as it's not only a wonderful community to live in, but also host to peaceful summer getaways.
Owning homes in the area enables you to:
Use it for yourself
Rent it out to regular visitors.
There's a roster of year-round activities and events at Smith Mountain Lake, which is sure to bring in people, whether or not it's tourist season.
The benefits of investing in Smith Mountain real estate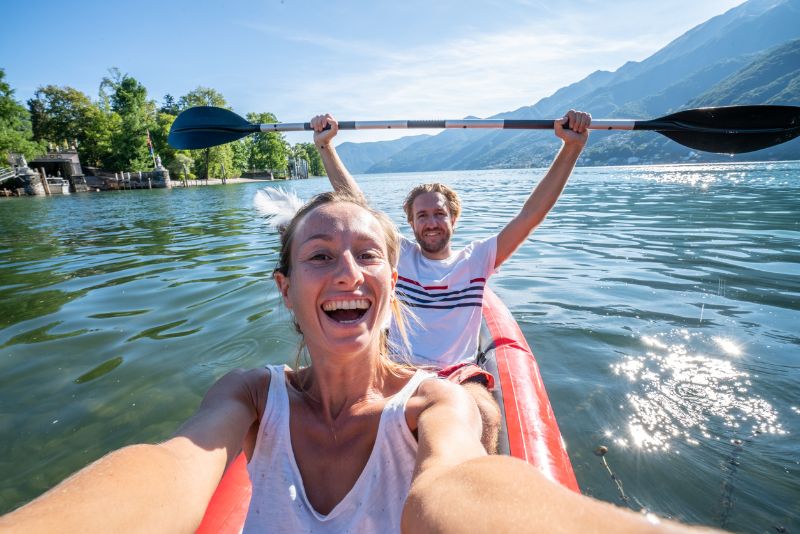 If you're curious about investing in property outside of the city, here are a few advantages you might not have considered in owning real estate in the country.
A more relaxed lifestyle. Whether you're interested in buying property for yourself or to lease, there's no question that time away from your jampacked day-to-day lives is a privilege often reserved for those in the countryside. Smith Mountain Lake is such a place where you can take your time, enjoy the outdoors, and get to know the locals.
More land and space. Not only can you stretch your legs and run free, you're sure to have a bit more privacy than you would if you lived in the city. Having more space between you and your neighbors is a benefit almost exclusive to countryside properties.
A sense of community. Busy as cities can get, it can be more of a challenge to get to know your neighbors and form a connection with them. In smaller towns, you get a chance to be familiar with the area and the people who live there.
Be closer to nature. While smaller towns are still a developed realty, they're generally much closer to nature than bigger cities. It can be as simple as finding the nearest state park and hiking for the day, or – as is the case with Smith Mountain Lake – getting on a boat and spending the afternoon bobbing on pristine waters.
Less pollution and traffic congestion. Naturally, being away from the concrete jungle makes for much less noise and air pollution, as well as heavy traffic. Experience the great outdoors in Virginia, learn about its history, hike its rolling hills, and rejuvenate before you get back to your busier days.
Perks unique to Smith Mountain Lake
Buyers thinking of purchasing lots in Smith Mountain Lake are sure to have these benefits, along with its own particular set of perks unique to its community:
An easy getaway from Roanoke, Lynchburg, and Richmond
Nestled right in between the busy cities and the country, Smith Mountain Lake is an easy escape from the hustle and bustle, where you can enjoy a relaxing waterfront view and explore gorgeous mountains, all only an hour away from Roanoke and Lynchburg, and three hours away from Richmond.

Access to freshwater activities
Created in 1963, Smith Mountain Lake is a large reservoir, impounding the Roanoke River to generate hydroelectric power through the dam. Since then, the area has grown into an upscale lakefront community with high-end homes, retail and commercial developments, and a host of recreational facilities. Rent or use your personal watercraft to enjoy water and jet skiing, wakeboarding, parasailing, fishing, sailing, and cruising around the lake.

Access to land-based activities
When you start to miss dry land, there's also a wide variety of activities to enjoy in the area, such as golf courses – which are prime attractions at Smith Mountain Lake – with two private and three public and semi-private locations, health and fitness centers, movie theaters, museums, and restaurants.

Access to lifestyle and recreational options
At Smith Mountain Lake, there are recreational and lifestyle options tailor made to your interest. Here are a few of them:

Access to local events and festivals
The thriving community at Smith Mountain Lake knows how to showcase their best. Regular events and festivals become occasions to remember for the array of products and services the community provides.

Take the Smith Mountain Lake Wine Festival.  The intimate gathering Lee Tucker and Phil Hager started in 1989 to appreciate Virginia wine with fellow local wine lovers has become one of the largest and most popular events in the community. The venue may change every few years or so, to make sure there's ample space to accommodate the growing number of visitors, but each site calls attention to more of the lake's breathtaking scenery.
The Annual Antique & Classic Boat Show is hosted by the Smith Mountain Lake Chapter on the third weekend of September to promote the restoration and preservation of the historic boats, as well as promote boating on the lake. For boat owners and enthusiasts alike, it's a chance to get to know your peers and display your own watercraft.
Every year on Columbus Day weekend, the community hosts the Smith Mountain Lake Charity Home Tour, a fund drive to support the critical services in the region. There are eight beautiful lakefront properties opened to the public for the tour. Volunteers and homeowners show guests around and point out the finer details of each house. The funds raised during the event supports the participating charities and their beneficiaries.

he opportunity to set up a vacation house for rent

Purchasing a home in a popular vacation area means you can open the property for rent, particularly when it's not in use. Like any investment, there are pros and cons to owning rental property. Fortunately, there are plenty to discover and experience in Smith Mountain Lake, making it an important vacation destination for years to come.

Here are a few things to keep in mind when you invest in a property at Smith

Mountain Lake:

Plan each step, and then some. Make sure your finances are in order, determine what your requirements and preferences are for the property, and get to know the neighborhood and the locale. Better yet, consult with a real estate expert familiar with the area. Let them show you around and assist you in preparing for your sizable investment.
Evaluate the properties. If you're interested in property near a lake, you may want to consider whether you'd like one close by or along the shoreline. After all, it's sure to be a fantastic view that you and your guests can enjoy. Decide on how long you'll keep the property, how much you may want to expand it, and calculate its future value should you choose to sell it.
Get to know your potential investment. Prior to your final decision, learn the specifics of keeping your waterfront property well maintained, including making sure water levels and accessibility are manageable. Aside from the upkeep, make inquiries typical to buying any home. Knowing the ins and outs of the residence prepares you for any improvements or renovations you may want to make once it's turned over to you.

The opportunity to scope your future retirement home

The leisurely pace of the countryside makes for the perfect retirement destination. Smith Mountain Lake has all this waiting for you as soon as you retire. This is especially true for those with an enthusiasm for all kinds of watersports and a preference for the best that Virginia has to offer.

Here's what awaits when you retire in in Smith Mountain Lake:

Open air and spectacular scenery. Space to breathe is a luxury especially in surroundings that are naturally vibrant and lush. Along with a storied past, a unique culture, and many desirable neighborhoods, Smith Mountain Lake is a haven that's perfect for your retirement.
An engaged retirement. With a wide selection of events and activities year round, there's plenty to keep you entertained and engaged. You can also volunteer for the many organizations in the community, start a new business, spend your days sailing and fishing, or make your way through the golf courses in Smith Mountain Lake.
Easy access to amenities. Don't let the "country" fool you – every amenity and service you need to live well and comfortably are in Smith Mountain Lake. For other pursuits,  Roanoke is less than an hour's drive away, along with other metropolitan cities in the region
There's something to be found for everyone in Smith Mountain Lake and its wonderful community. Find more information about its local culture, primary residences, investing in second homes, as well as vacation rentals from Jane Horne's previous blog posts:
What's Smith Mountain Lake's housing market like?
For first-time homebuyers, it's likely to be challenging looking for the property of your dreams, especially in today's market where there are more buyers than sellers. Listings that are just a few days on the market are quickly inundated by multiple offers, delaying the home buying process for those who lose out to winning offers. With the pandemic prompting the move from big cities to smaller towns, expect a more competitive market.
While these factors are also applicable to the Smith Mountain Lake housing market, in April 2021, the median listing price of a home in Smith Mountain Lake was close to $260,000, an 8.5% increase year-over-year. So if you're looking for listings of single-family homes, condos, townhomes, or lots, there's a modest selection for you to choose from.
As of mid-2021:
Single-family homes sold for 98% of their list price less than two months after being listed.
Condos and townhomes sold an average of 99% of the list price after less than a month on the market.
For land, the average price for lots was at 88% of the list price but stayed on the market for longer than a year.
The state of real estate is constantly shifting – especially at these unprecedented times. Be sure to adjust as needed when you finally find a property that matches your needs.
Explore Smith Mountain Lake's neighborhoods and get to know what makes each of them special.
The Water's Edge is one of the most luxurious places, as a country club community with its own Equestrian Center and the 18-hole PGA Championship golf course designed by R.F. Loving, Jr.
The Waterfront stands out as the first of its kind in the area, occupying an expansive 750 acres comprising world-class amenities, including their 18-hole PGA Championship golf course designed by George Dillon. Buyers will find a wide selection of listings they can choose from, at price points ranging from $120,000 to $320,000.
South Harbour is a 100-acre neighborhood, particularly recommended for those who want to avoid the crowd. It's quite exclusive, with only 40 one to one-and-a-half acre lots, of which 28 are prime waterfront properties.
There's more to discover in Smith Mountain Lake. Learn more information about the different neighborhoods with community resources here.
What to consider when choosing property in Smith Mountain Lake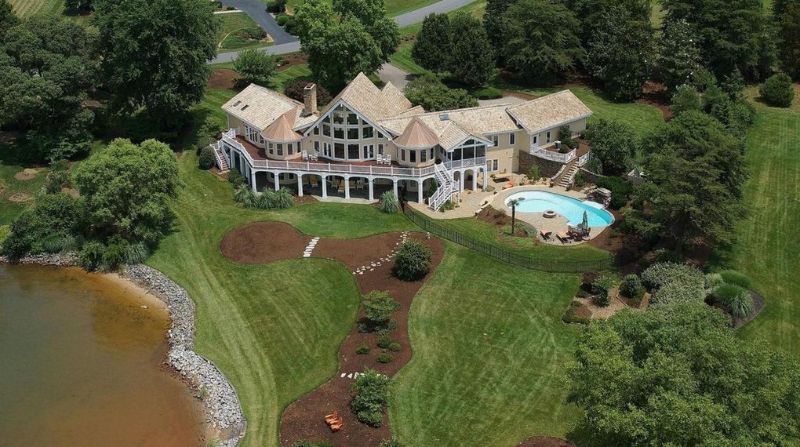 A recently sold estate in Smith Mountain Lake
Smith Mountain Lake is one of the top places to live in Virginia, with spectacular scenery, a peaceful atmosphere, access to both mountains and lake, along with the idyllic community to enjoy the area's year-round roster of exciting activities. Being the "Jewel of Blue Ridge Mountains," Smith Mountain Lake has been a favorite of tourists year after year.
If you're considering buying property in Smith Mountain Lake, here's what you should keep in mind in your search for your next big investment:
Set your goals for the property
Whether you're planning to buy a waterfront property or a luxury condo, where you can live or rent out to the tourists, it's important to know what's motivating your investment. Have a list of goals on hand when you peruse the listings available in your preferred area. This can include information on pricing, land size, distance from amenities, and the property's features. Knowing these details can help keep you on track for when there's too many details and options to take into account.
Be prepared to adjust on the fly
Smith Mountain Lake is host to many luxury homes and fun events and activities, and its proximity to metropolitan areas makes it a premier destination for both visitors and potential buyers. Your search for the perfect home in the area may take as little as a month to as long as a year, depending on the market. With this, be sure your shortlist of properties is within your budget – but you may have to decide quickly on whether to make an offer or not – and make certain you're in this for the long haul.
Partner with the right real estate professional
Purchasing property is one of the most significant decisions you'll make, so be prepared for a laborious process. Working with a real estate agent who can assist you comes highly recommended, particularly if you're a first-time buyer. Consult with a professional who is familiar with the area you're interested in, and have them show you around. This gives you a chance to gather information on the community as well as find the best deals for the top properties.
A one-of-a-kind community in the beautiful countryside
Having lived in Smith Mountain Lake for over 20 years, I, Jane Horne, can certainly vouch for its family friendliness, a magical area made for raising kids. There's always something new to discover, while also adjusting to the slower pace of life in the country.
For me – and I hope, many of you are considering a move to Smith Mountain Lake – this community is close to my heart, and I'd love to introduce it to you. My local expertise and knowledge of the housing market can help you achieve your real estate dreams.
Reach me today through this form or give me a call at 540.493.1690 to learn more about Smith Mountain Lake.