Luxury Living in Smith Mountain Lake, VA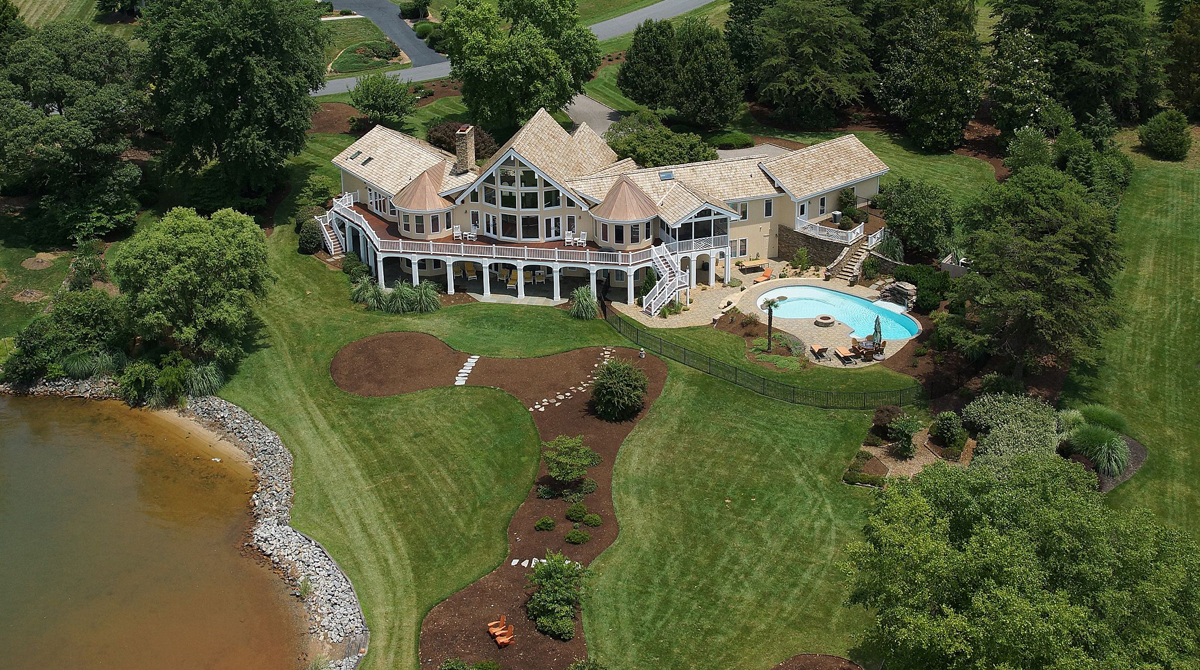 Renowned for its stunning lake scenery and mild climate, Smith Mountain Lake is one of the most popular residential areas on the East Coast. 
Imagine you and your family building great memories while enjoying the serenity of living in a waterfront home in Smith Mountain Lake. Framed by the majestic beauty of the Blue Ridge Mountains, Smith Mountain Lake is the perfect community for those who want to try adrenaline-pumping water sports or simply enjoy the peace and beauty of the lake. 
Smith Mountain Lake, which is located in Central Virginia, offers 500 miles of shoreline and a 20,000-acre manmade lake ideal for fishing, boating, and other outdoor activities.   The area is located halfway between the cities of Lynchburg and Roanoke in Virginia The community is also a four-hour drive from Washington, DC and 35 minutes to the Appalachian Mountains. 
If you are searching for luxury lake homes in Virginia, this article will point you in the right direction and show you why it's good to live in an area heralded as the Jewel of the Blue Ridge Mountains. 
Smith Mountain Lake Real Estate Overview
Originally built as a hydroelectric dam to harness energy and produce electricity, Smith Mountain Lake is now the perfect place to soak up the sun and enjoy easy access to water activities.
There are plenty of waterfront homes and condos to choose from in Smith Mountain Lake, which is now one of the most coveted lakefront residential areas on the East Coast. Residents are free to indulge in their favorite outdoor activities like water sports, and enjoy the privilege of living in nearby golf courses, wineries, and country clubs.
Waterfront Properties at Smith Mountain Lake
Browse properties for sale in Smith Mountain Lake and take a closer look at your waterfront options. These homes rarely depreciate in value because there's only so much lakefront you can build on, even as waterfront homes remain in high demand. The high appreciation rate means you are most likely to enjoy a good return on investment. 
In 2018, a study from the property valuation firm Collateral Analytics revealed that from among 1.2 million residential properties across the United States, waterfront homes consistently sell at a higher price than houses inland.  In fact, lakefront homes enjoy a 25% price premium. 
As a waterfront luxury homeowner, you can take advantage of Smith Mountain Lake's scenic location – the views of the lake, easy access to the water's edge right from your own backyard, and the sun setting over shimmering, golden waters from the back porch of your own home. 
Secure a home with such unparalleled vistas by starting your home search now. You can choose from cottages to contemporary homes to grand estates to luxury mansions surrounded by stunning mountain views and a beautiful freshwater lake.
Browse gorgeous Luxury Smith Mountain Lake Waterfront Homes here.
Condos for Sale at Smith Mountain Lake
If you would rather buy a condo, you will still enjoy stunning panoramic views of the lake, as well as top-notch amenities such as access to fitness gyms, heated pools, outdoor patios, and modern jetted tubs. 
Whether you choose to live downtown or by the lake, luxury condos for sale at Smith Mountain Lake are situated perfectly to cater to your needs. Depending on the condominium you're eyeing, you might even be able to access a boat dock or secure your own boat slip.
Take a look at luxurious Smith Mountain Lake Condos here.
Smith Mountain Lake Luxury Homes for Sale
Whether you're buying a Smith Mountain Lake luxury waterfront house or a condo, you can be sure they epitomize everything you associate with high-end living. 
Take your pick from among stately waterfront homes with scenic mountain and water views.  Many of these luxury homes for sale meet standards for quality, innovation, and design. 
Typical features of luxury waterfront homes include spacious bedrooms, spa bathrooms, wine cellars, walk-in pantries, and top-of-the-line entertainment centers.  
There are open-plan house designs with floor-to-ceiling glass windows that flood the house with natural light all day. Some bring the outdoors in with sliding glass doors. Your ultra-luxury residence can also be outfitted with infinity pools, Jacuzzi tubs, fire pits, or private boat docks.  
Impressive architecture, sophisticated amenities, and awe-inspiring lakefront views are just some of the features present in most luxury waterfront homes.
With some of the most beautiful waterfront houses and condos being represented here, you will surely find the perfect lakefront residence in Smith Mountain Lake.
Communities in Smith Mountain Lake
Several meticulously planned communities surround the picture-perfect lake. Choose the one that fits you best. You'll find the finest luxury homes in the market today in these communities. 
This 750-acre country club community boasts of a shoreline extending 8.5 miles. It has an 18-hole golf course with spectacular views while presenting challenging shots for players of all levels. The 22,000-square-foot clubhouse has been recently renovated and there is an Olympic-sized swimming pool available on the grounds. Residents can chill at the bar room lounge overlooking the verdant green golf course. 
Located on the west side of the lake, this 100-acre community has a shoreline stretching almost four miles. Imagine living in one of the charming Nantucket-style cottage homes that come with a lake-view porch and boat slip.  
Nestled on the southern side of Smith Mountain Lake, The Water's Edge sprawls across 712 acres with 13.5 miles of shoreline. It has four distinct neighborhoods – Island Green Point, Village Green, Golfer's Crossing, and The Grande Villas, the latest development. The amenities are second to none: residents can take horseback rides at the equestrian center, work out at the fitness center, or tee off at the 18-hole championship golf course. Golf Digest once considered this PGA Championship golf course as one of the top new courses in the United States.
South Harbour presents plenty of options for luxury buyers. This 100-acre community includes waterfront lots for those who want to custom-build their dream home. Acquiring property in South Harbour also allows you to join the elite Waterfront Country Club.
All of the communities listed here are worthy examples of why Smith Mountain Lake remains one of the hidden gems of the East Coast. The Blue Ridge Mountains provide a majestic backdrop to the crystal-clear waters of this pristine lake, which was first constructed in 1960 and stretches across the counties of Franklin, Bedford, and Pittsylvania in Virginia.
Things to do in Smith Mountain Lake
Have fun at Bridgewater Plaza
Located at the southwest end of Moneta Road (Route 122) bridge, Bridgewater Plaza is an entertainment venue with restaurants, shops, boat rentals, docking, and an arcade. Enjoy playing miniature golf at Harbortown Mini Golf with its course built over the water. 
You and your family can enjoy water sports at Smith Mountain Lake with public boat ramps and over a dozen marinas that offer lake access. You can rent jet skis, pontoons, and ski boats for one day or for one whole week if you want. Try wakeboarding, wakesurfing, or wakeskating at Wake Up Wakeboard School. 
Enjoy the trails at Smith Mountain Lake State Park
The 1,148-acre Smith Mountain Lake State Park is located on the north shore and offers 13 hiking trails. The park has a playground, fishing pier, picnic facilities, and boat launch ramps. There are cabins available for rent as well as campsites that come with or without electricity. 
You can frolic on the beach protected by lifeguards or explore the second largest freshwater lake in the state of Virginia. 
Canoes, kayaks, hydrobikes, paddleboats, pontoon boats, ski boats, and fishing boats are all available for rent at the state park. 
Spend time at Smith Mountain Lake Community Beach Park 
The 37-acre Smith Mountain Lake Community Beach Park offers 1.7 miles of walking trails. You can bring your family here to enjoy swimming and fishing at the handicap-accessible fishing pier. There are also picnic shelters with grills and lifeguards on duty at the white-sand beach.
Discover Virginia's wineries 
Discover the vineyards of Virginia, especially those that are part of the famous Bedford Wine Trail. Ramulose Ridge Vineyard is known for pairing wines with cigars, which are available on site. Join tasting tours offered by Hickory Hill Vineyards and Winery or Leo Grande Vineyards and Winery.  
There are plenty of resources at Smith Mountain Lake if you're keen on sailing. Pelican Point Yacht Club is a large, gated marina with 18 acres of wooded land and around half a mile of waterfront. Member privileges include the use of the clubhouse, tennis court, and saltwater pool. 
Smith Mountain Lake Sailing School and Charters provides US sailing-certified instruction for beginners and advanced sailors alike.
Smith Mountain Lake Sail and Power Squadron is a non-profit organization dedicated to making boating safer through seminars, classroom courses, and on-water demos with supervised practice.
The Virginia Inland Sailing Association is another nonprofit offering sailing, and social and recreational activities for members and guests. 
Hop aboard the Virginia Dare 
The Virginia Dare is a 63-foot sightseeing boat that offers lunch, dinner, and sightseeing specialty cruises. This Mississippi-style riverboat has open-air seating topside and an enclosed main deck. For two hours, you and your family can enjoy the best sights on Smith Mountain Lake including the Sail Boating Club and private islands. 
Smith Mountain Lake is one of the most renowned fishing spots on the East Coast, with enthusiasts indulging in their hobby year-round. Here, striped bass, crappie, and catfish, as well as largemouth and smallmouth bass abound. Fishing tournaments are also held year-round, including the popular Bassmaster Elite Series competition. Look to local fishing guides for half-day and full-day tours.  
The golf courses at Smith Mountain Lake combine natural beauty with challenging holes. The Mariners Landing and The Westlake Country Club are open to the public. The Waterfront Country Club and The Water's Edge Country Club are private golf courses for lake residents. 
How to Buy a Luxury Home in Smith Mountain Lake 
If you think that this is the kind of community that answers your need to be surrounded by placid waters, nature at its lushest, and indulge in the lifestyle you've always dreamed of, then Smith Mountain Lake is for you. 
Before you pay a premium on a waterfront home that will serve as your vacation getaway, primary home, or dream retirement, here are 5 tips to take note of: 
Check for structural integrity 
Waterfront homes take a heavy beating from wind and water. Make the most of your waterfront property by looking for features such as stainless steel locks and storm shutters. Get a home inspector who specializes in waterfront structures to assess the house. The inspection report will provide clues as to whether the property has current and future issues that need to be addressed such as structural integrity, mold, rot, long-term rust, and the like.
Learn about insurance requirements 
Your insurance premiums will be higher than most because waterfront properties tend to carry a greater amount of risk compared to inland homes. Therefore, you will need more coverage to protect your home from floods or a landlord insurance if you're renting out your home. Check state regulations if you need to purchase more than one type of coverage. These could include general hazard policy, wind policy, and flood policy. To find out if your area is prone to flooding, visit the FEMA website. 
Learn about association fees 
Check if you will need to pay a Homeowners Association Fee when you purchase property in a certain community. These recurring fees can be used towards maintaining and improving amenities around the property or keeping the water clean. 
Look into building restrictions
Your waterfront property may come with restrictions when it comes to building additional structures. Be aware of the rules if you're thinking of erecting a dock or a seawall in the future. Check permits required to build, rebuild, or repair any structures, especially those that extend into the water. Waterfront homebuyers should know if there are regulations that limit the size of a dock in case you need to accommodate a bigger boat.  
Know the local neighborhood
Location is one of the most important factors when choosing a home, which is why you will need to keep tabs on the area's real estate trends and future development plans. Consult with a Smith Mountain Lake real estate agent who will have a good understanding of the locale. By purchasing a home in a great location you've vetted, you can ensure that your property keeps its value.
Come Home to Smith Mountain Lake
Smith Mountain Lake is considered one of the most desirable communities on the East Coast – and it's easy to see why. With an expansive lake framed by the postcard-perfect Blue Ridge Mountains, as well as numerous amenities, stately waterfront homes, and luxurious condos, Smith Mountain Lake is a dream destination. 
Whether you're buying a primary or vacation home, the properties in Smith Mountain Lake are worth the extra steps needed to secure the home of your dreams. Which is why it is advantageous for you to work with an experienced Realtor. 
Your chosen real estate agent should have the knowledge, experience, and local expertise when it comes to dealing with waterfront property in the area you are targeting. 
For instance, if you want to buy a waterfront home because you enjoy sailing, your Realtor should be able to inform you about water depths, boat slip sizes in relation to your chosen watercraft, and local rules and regulations regarding water activities. 
An experienced Realtor will provide you with a depth of knowledge needed to make an informed choice before you make an offer on a waterfront home. 
How Jane Sulllivan Horne Helps Clients Find Their Dream Homes
Let me, Jane Sullivan Horne, help you choose from among Smith Mountain Lake homes for sale. Make your lake home a worthy addition to your real estate portfolio. 
After specializing in luxury residential properties in Smith Mountain Lake for over 30 years, I have developed the in-depth knowledge about the lake and the communities in the area. 
I can help you find your dream luxury home in Virginia and assist you in the process of buying waterfront properties. 
Here are a few of my clients who have found theirs. Cynthia & Bill Sterrett from Blacksburg, VA, says: "We have worked with Jane on all three of our properties at Waters Edge over the years. She has always been the consummate professional in handling our real estate sales and purchases. Jane knows the lake properties and the market."
Gary & Joy Gerasimowicz, who live in Naples, FL, bought their summer home in Smith Mountain Lake with my assistance:  "After we contacted Jane [through her website], our entire process went extremely smooth. Since we live in Florida, we flew into Roanoke, VA. Jane arranged for us to stay at a beautiful condo on the water at The Water's Edge Country Club. This really made our experience both convenient and relaxing… In my opinion, the sign of an outstanding Agent is what she does after the sale. Jane earned an A+. From mortgage company, to home inspectors, to paperwork, etc., Jane took care of everything and communicated very effectively."
Read more Testimonials here.
Allow me to offer you the A+ service you deserve. For waterfront homes and condos in Smith Mountain Lake, get in touch with the Jane At The Lake Team and me at 540.493.1690 or send an email to Jane@JaneAtTheLake.com.