The Smith Mountain Lake Experience: Living a Life of Luxury in Virginia
Currently one of the premier vacation destinations in Virginia, the Smith Mountain Lake area was once a vast, untouched expanse of field and gorge. Cradled by the Blue Ridge Mountains in Virginia's Roanoke Valley, it was home to generations of Native American tribes who lived on the land and hunted the game that flocked here.
After settlers made the area their home, it remained remote and agricultural well into the 20th century. It wasn't until the 1960s — when the Appalachian Power Company built a dam to generate hydroelectricity from the Roanoke River for the surrounding region — that the area would experience the major landscape shift that would turn it into the international lake destination it is today.
Even before the reservoir reached its full depth in 1966, Smith Mountain Lake's trajectory toward its current reputation was already evident. Today, the rural lakefront community is made up of around 20,000 residents living in small communities and towns around the 22,000-acre lake the dam created.
Smith Mountain Lake's 500 miles of shoreline, relaxed, warm atmosphere, and beautiful lake view have kept many vacationers coming back to its shores over the years. Yet despite this popularity, the community, which sprawls into the borders of three counties (Bedford, Franklin, and Pittsylvania), maintains its peaceful, low-key character.
And though the area may appear cut off from the rest of the state, access is not an issue. Two of the region's major cities, Roanoke and Lynchburg, are about an hour to an hour and a half away northwest and northeast, respectively.
Living in Smith Mountain Lake
Friendly, intimate community
The water is not the only thing that keeps people constantly flocking to Smith Mountain Lake. The small communities which surround the lake welcome vacationers and second-home owners with a casual hospitality. Residents all over Smith Mountain Lake, from those living in off-water cottages to luxury lakefront villas, cherish the active and tight-knit atmosphere that pervades throughout the lake community.
As a result, imagining Smith Mountain Lake as a new home is hardly a challenge, and visitors readily make the decision to permanently settle or retire here for the water, the mountains, and the warmth of community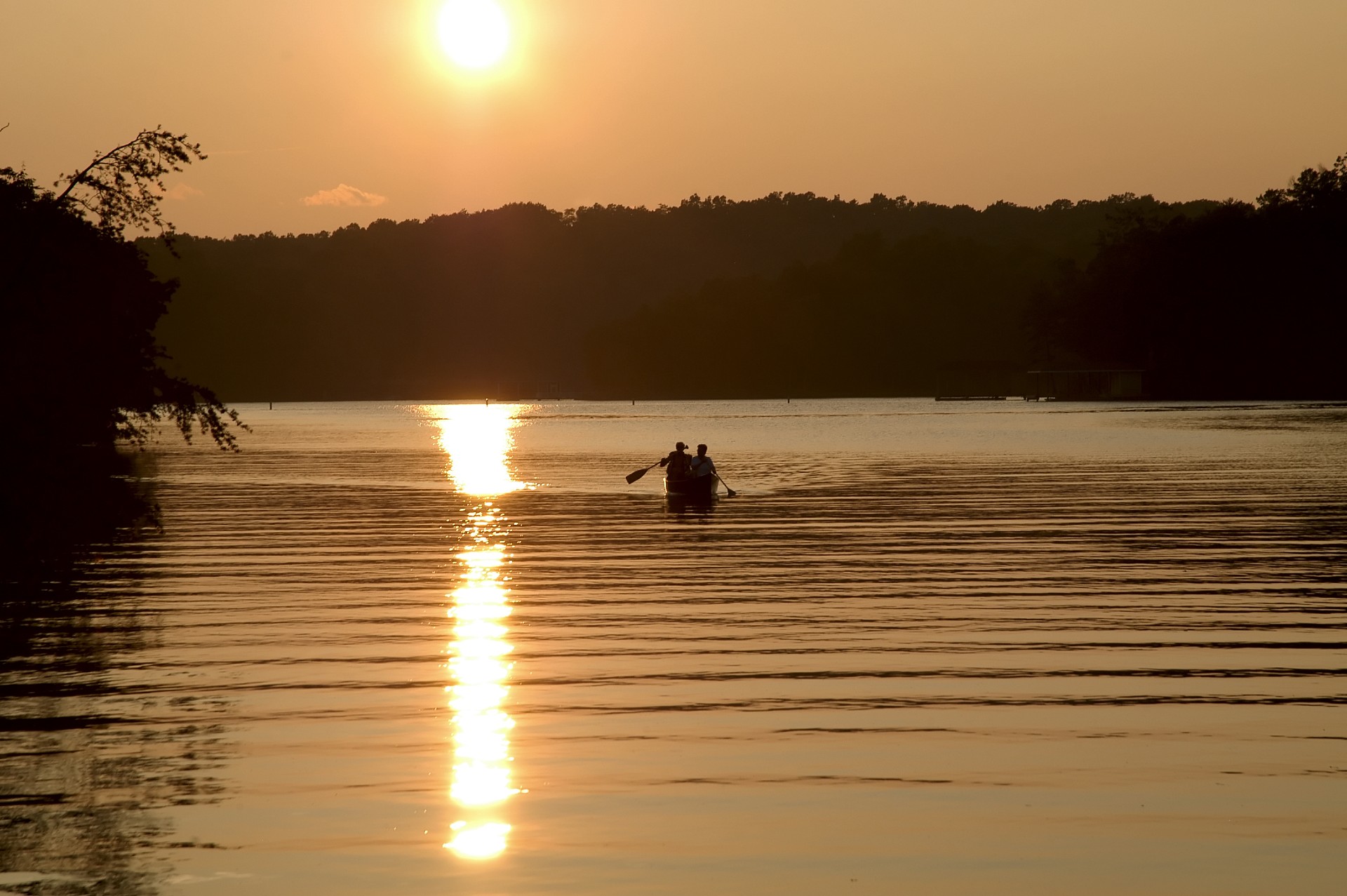 Nature and history hand in hand
Figuring out what to do with your days in Smith Mountain Lake has more to do with the abundance rather than the lack of options. From the bounty of natural attractions to the unexpected wealth of historical and cultural destinations at your fingertips, the lake community doesn't disappoint.
Nature lovers can spend days exploring Smith Mountain Lake State Park without losing interest. 13 hiking trails wind throughout the park's pine and hardwood forests, offering stunning views of the lake and the area from above as well as fresh mountain air. Cabin retreats are also found in the park for closer and longer communing with nature. The park also organizes wildlife watching tours for anyone keen on learning about the local flora and fauna.
Avid hikers can indulge their sense of adventure in nearby parks and trails. McAfee Knob, one of the most famous and breathtaking sections of the Appalachian Trail, is just an hour's drive away from Smith Mountain Lake. Fairy Stone Park and Philpott Lake are also great for a change of scenery.
As part of a state with a storied past, the area in and around Smith Mountain Lake shares in this wealth of history. A short ride out of the community is the 239-acre Booker T. Washington National Monument in Hardy. The area — once a tobacco plantation — was the birthplace of the renowned 19th century African American statesman and educator who later established Tuskegee Institute in Alabama.
An hour-and-a-half's drive northeast from Smith Mountain Lake is Poplar Forest, Thomas Jefferson's personal retreat. The plantation, designed by Jefferson himself, schedules guided house tours that visitors can take to learn the history and architecture of the place. National D-Day Memorial in Bedford explores another chapter of American history, specifically the nation's fateful involvement in the Normandy landings during World War II.
First-class amenities and culture
Living in Smith Mountain Lake is about balance. The water and the mountains offer seclusion and peace, but not at the cost of cutting everything else off.
Since the lake community is divided among three counties, residents have access to three major regional healthcare networks and their hospitals: Carilion Franklin Memorial Hospital in Rocky Mount, Centra Bedford Memorial Hospital in Bedford, and Centra Lynchburg General Hospital in Lynchburg. A handful of clinics in Smith Mountain Lake support these larger institutions by offering services that cover general to acute care as well as optical and dental.
The lake community itself has a plethora of lakeside and off-water restaurants serving dishes ranging from homey shrimp and barbecue platters to a fine dining fusion spin on surf and turf. Bridgewater Plaza and Westlake Towne Center offer residents an assortment of retail options, and there are several art galleries and studios in the community where unique works and personal accessories can be purchased.
There are also a handful of cultural venues located within and near Smith Mountain Lake. Harvester Performance Center in Rocky Mount holds outdoor concerts for live music enthusiasts of every genre from Americana to instrumental hip hop. Roanoke, which is about 40 miles away, expands the opportunities to enjoy even more live (or virtual) performances through a symphony orchestra, an opera, and several theater venues. Lynchburg, which is roughly 60 miles away, has several historic points of interest and museums as well as 40 in-city trails that makes a visit just as adventure-packed as it is informative.
The mountains of southwestern Virginia have a long history of agriculture. During harvest season, families can drive to farms and farmer's markets in the area to stock up on fresh fruits such as apples, peaches, plums, nectarines, and berries. The region also fosters a handful of local wineries that cultivate a diverse selection of award-winning white, red, and fruit wines as well as several craft breweries creating interesting ales, stouts, and lagers.
Overall, there are plenty of areas to explore and things to do in Smith Mountain Lake. Its pristine and expansive waters have made it a prime lake destination for people from all over the world, but that only scratches the surface of what Smith Mountain Lake has to offer.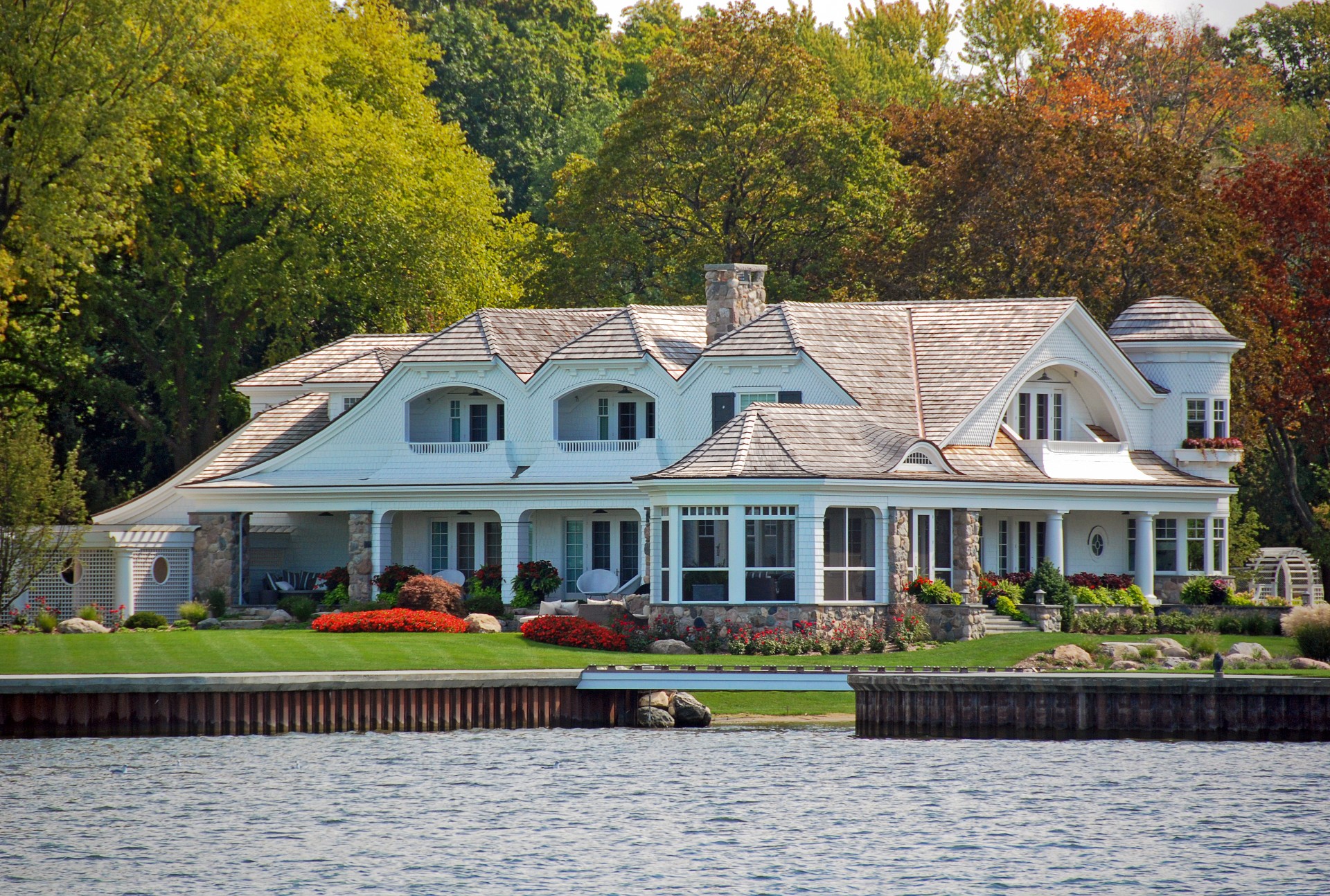 Why buy a luxury lake home?
Owning luxury property in Smith Mountain Lake can reward you in several ways:
Beauty and privacy: Smith Mountain Lake's luxury lake homes offer some of the most unique and memorable views of the Blue Ridge Mountains and Roanoke Valley. A collection of small communities tucked away in Southwest Virginia's mountainous terrain, Smith Mountain Lake has privacy built into its DNA. It is far enough from dense urban areas to guarantee less noise and congested roads. And with many exclusive neighborhoods present, much time and planning has been dedicated to ensuring that vehicular traffic by your property is kept to a minimum or limited to one site to avoid ruffling the peace of your surroundings or your mind.
Better health: Whether it's a vacation retreat or primary residence, owning a lake home means spending time near, in, and on the water. With this proximity comes a barrage of physical and mental benefits: better and more restful sleep (thanks to less noise and the soothing sound of lapping water), a more active lifestyle, and less stress.
Ready access to the water: Smith Mountain Lake maintains its reputation as a top recreation destination for a good reason. The large lake offers visitors and residents a variety of activities for every interest. Spend your day fishing for brook trout, striped bass, or muskie. Learn how to sail and discover new parts of the reservoir. Enjoy the thrill of wakeboarding or jet-skiing. Or, rent a houseboat to get a completely unique view of the area's mountain and lake landscape.
Investment opportunity: Lake homes make a great investment, because supply is finite and the location is unique. This combination of factors makes the value of a lake home appreciate faster compared to that of a conventional home. Include Smith Mountain Lake's mild four-season weather and its resemblance to Lake Tahoe into the mix, and you have a home that will retain its value through seasons and years. A lake home that is vacant for some parts of the year can also be a source of passive income when listed on the rental market.
Smith Mountain Lake Luxury Homes for Sale
Finding the right luxury home in the Smith Mountain Lake area amounts to knowing what you want and choosing the community that fits your budget as well as your lifestyle. It also helps to know what you can expect to see in the area in terms of:
Property types
Luxury homes in Smith Mountain Lake can be divided into condo and waterfront properties. Most condos in the lake community are either luxury condo units with first-rate amenities or cottage-style townhomes. Detached waterfront properties, on the other hand, come in many styles: cozy bungalows by the shore, stately opulent villas with sprawling lawns, and luxury lodges.
Architectural styles
Like other lake communities in the country, the architectural styles of Smith Mountain Lake homes are partially influenced by the specific condition of being close to water. Rustic cottages, lodges, and log cabins can be spotted throughout, a nod to the rural quality of the area and its proximity to nature. Larger and more extravagant waterfront properties incorporate Colonial, Queen Anne, and Old World design elements and make use of stone and shingles as weatherproof, durable building materials.
Luxury home features
Luxury homes set themselves apart from conventional homes through their amenities and features. High-end waterfront properties in Smith Mountain Lake are no exception. Condominium developments in exclusive neighborhoods offer residents units with great views of the lake, country club membership, a floating dock, and access to common areas such as heated pools, fitness centers, and private beaches. Detached waterfront properties come with even more premium amenities. High-end lake homes in the exclusive neighborhoods of the community typically have vast outdoor spaces for privacy, panoramic lake views, a private dock, professional-grade appliances, and entertainment features like a wine cellar, outdoor kitchen, and an open floor plan.
Communities
Each Smith Mountain Lake community meets the needs of a specific kind of lake home buyer. Off-water neighborhoods are ideal for buyers who want to live close to the lake and still enjoy it, but don't wish to worry about dock maintenance and the other additional costs of owning property right on by the water. Resort communities are perfect for residents who prefer having everything they would need or enjoy conveniently located in one small area.
For buyers downsizing from a previous home or searching for a vacation home, cottage developments check the right boxes. These communities offer homes at different price points and tend to be more modest in size and design. Lastly, country club communities are for lake home buyers who want the absolute best. Homes in these communities often have the best views of the gold greens and the water. Country club communities have recreation centers, dining venues, club membership, and other amenities that truly make living in them special.
Luxury living at your fingertips
Owning property in Smith Mountain Lake opens you to the unique and rewarding opportunity of living in a breathtaking and welcoming waterfront community.
As a Fine Homes Certified CRS realtor who has been living and working in Smith Mountain Lake for more than 30 years, I have seen and enjoyed the local area firsthand and delight in sharing my experiences with clients.
If you can already picture living in one of the luxury lake homes in Virginia's Smith Mountain Lake community, call me, Jane Horne, 540.493.1690 or fill out this contact form. I work closely with clients and show them around the lake's various neighborhoods, so they can pinpoint the home and community that complements their needs and lifestyle.